Premium Bottle Mount
ADJUSTABLE BARREL
Fully adjustable barrel orientation allows the bottle angle to be adjusted for all operator dosing styles, particularly in confined spaces such as cattle chutes.
QUICK SET DOSE SELECTOR
Precise, easy grip volume control.
ERGONOMIC HANDLE
Handle designed for operator comfort with textured non-slip finish. Operator comfort and a robust design are hallmarks of the Premium series.
The Premium Bottle Mount Injector is available in a range of dosages from 1mL to 6mL. Please refer to the specification table for more details.
Available in a range of bottle mount options.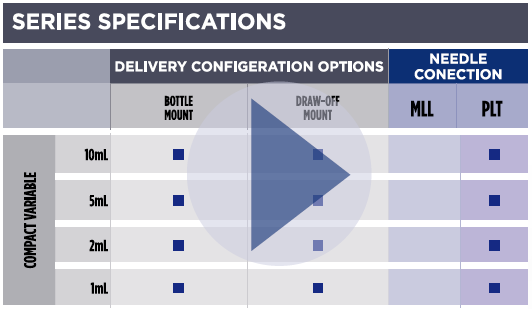 OPTIONS
Bottle Mount
Draw-Off Mount
Push Fit Shroud
Metal Luer Lock (MLL)
Plastic Luer Tip (PLT)